Development & System Operations
·
Malmö, Sweden
·
Hybrid Remote
Lead Software Engineer - Integration and Automation
At Spiideo, we are revolutionizing sports video recording, analysis, and streaming for professional and amateur teams worldwide.

Spiideo is the leading provider of automated cloud-based solutions for video analysis and streaming of sports. With an entirely new way of recording, sharing, analyzing sports performance, and producing sports for streaming, Spiideo has a unique position in the market. Our solution strikes the perfect balance between performance, simplicity, and accessibility.
Today Spiideo is used by hundreds of organizations globally, including some of the world's largest and most well-known professional and collegiate teams. Our customers are typically in team sports like soccer, basketball, ice hockey, field hockey, futsal, lacrosse, etc.
The Opportunity 
Are you an experienced Software Engineer who finds it deeply satisfying to automate things and create better and more efficient ways of working? Are you interested in working in the intersection between engineering, product experience, and business development? 
We seek someone to lead Spiideo's integration and automation work and help us reach our vision of 100% automation. You will get the opportunity to work with every aspect of our product and think about the full end-to-end experience, especially on the commercial side.  
Core Responsibilities
Leading the integration and automation of our different systems in the cloud, to create a seamless customer journey and enhance commercial opportunities
Identify opportunities for automation and optimization of our customer journey and drive technical solutions that meet our customers' needs
Develop and maintain integrations between different systems using APIs and other integration tools
Work with our engineering teams to ensure that data is flowing seamlessly between different systems and that customers have access to accurate information
Ensure that integrations and automation align with our overall technical strategy and architecture
Mentor and coach other engineers to promote best practices and ensure high-quality code and systems
Profile 
The ideal candidate for this position is a self-starter passionate about developing solutions that drive automation and streamline the customer journey. You have a proven track record of product development and system integration and possess strong problem-solving, analytical, and communication skills. You also have a commercial mindset and are interested in the full end-to-end experience of a product. If you fit this description and are ready to take on a leadership role, we encourage you to apply for this exciting opportunity with our team at Spiideo.
Qualifications
Bachelor's or Master's degree in Computer Science, Computer Engineering, or related field
5+ years of experience in software engineering, with a focus on systems integration and automation
Strong experience with integrating different systems using APIs and other integration tools
Strong proficiency in AWS cloud services, including but not limited to serverless architectures, message brokers, and RESTful APIs
A commercial mindset; you are interested in business development and the commercial aspect of a product 
Strong programming skills in Java back-end development with Spring-boot framework
Experience with any of the following languages is a plus: Rust, Typescript, Python
Experience working with cloud-native architecture and best practices
Ability to work independently and take initiative to identify and solve problems
Strong problem-solving skills and ability to work in a fast-paced environment
Excellent communication skills
Location

This is a full-time role based in Malmö, Sweden, which is Spiideo's headquarter and where the vast majority of our team members in our development & product departments are located. We have a healthy mix of being at our office at the heart of the city center, and remote. 
Benefits
You will be part of an international team with knowledgable and friendly people from many different nationalities and backgrounds. We offer a well developed benefits package, including a pension & insurance package according to collective agreement standard, parental leave pay, wellness contribution and the opportunity to spend two hours per week on physical activity. 

Department

Locations

Remote status

Hybrid Remote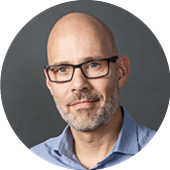 Contact
Roger Jansson
VP of Development & Operations – Development & System Operations
Workplace & Culture
You just have a couple of seconds to capture the interest of your visitors. Explain how it is working at your company. Give the visitor an insight, show with text and pictures. Share your company culture.
Try to communicate your companies efforts to existing and prospective staff what makes your company a desirable workplace.

About Spiideo
Spiideo provides innovative solutions for automating sports video production, video analysis and streaming of all levels of sports - all over the world. The powerful cloud-based camera system uses AI to automatically capture high-quality, panoramic footage, enabling the delivery of high-quality analysis and feedback without manual filming.
Spiideo works globally with all levels of sports- from elite to amateur and senior to youth. More than 2,000 organizations are currently using Spiideo, including teams in the Premier League, NHL and NBA, as well as national leagues such as Sweden's Allsvenskan.
Founded in Malmö in 2012, Spiideo has grown and scaled internationally, delivering products worldwide and with employees across 12 different countries. Alongside camera system development, customer success, sales and marketing, we have a complete product development organization in-house with high capacity in cloud, frontend, design, video and AI/ML.
Development & System Operations
·
Malmö, Sweden
·
Hybrid Remote
Lead Software Engineer - Integration and Automation
Loading application form
Already working at Spiideo?
Let's recruit together and find your next colleague.